WeWander is a project that addresses the loneliness of solo travel. It was conceived by myself and a partner as a passion project and potential entrepreneurial venture, and is currently undergoing the design process. My responsibilities include ideation and brainstorming, user interviews, wireframing, UX/UI, and graphic design / branding. We will be seeking funding and business leadership in the near future. Please feel free to get in contact with me with any inquiries!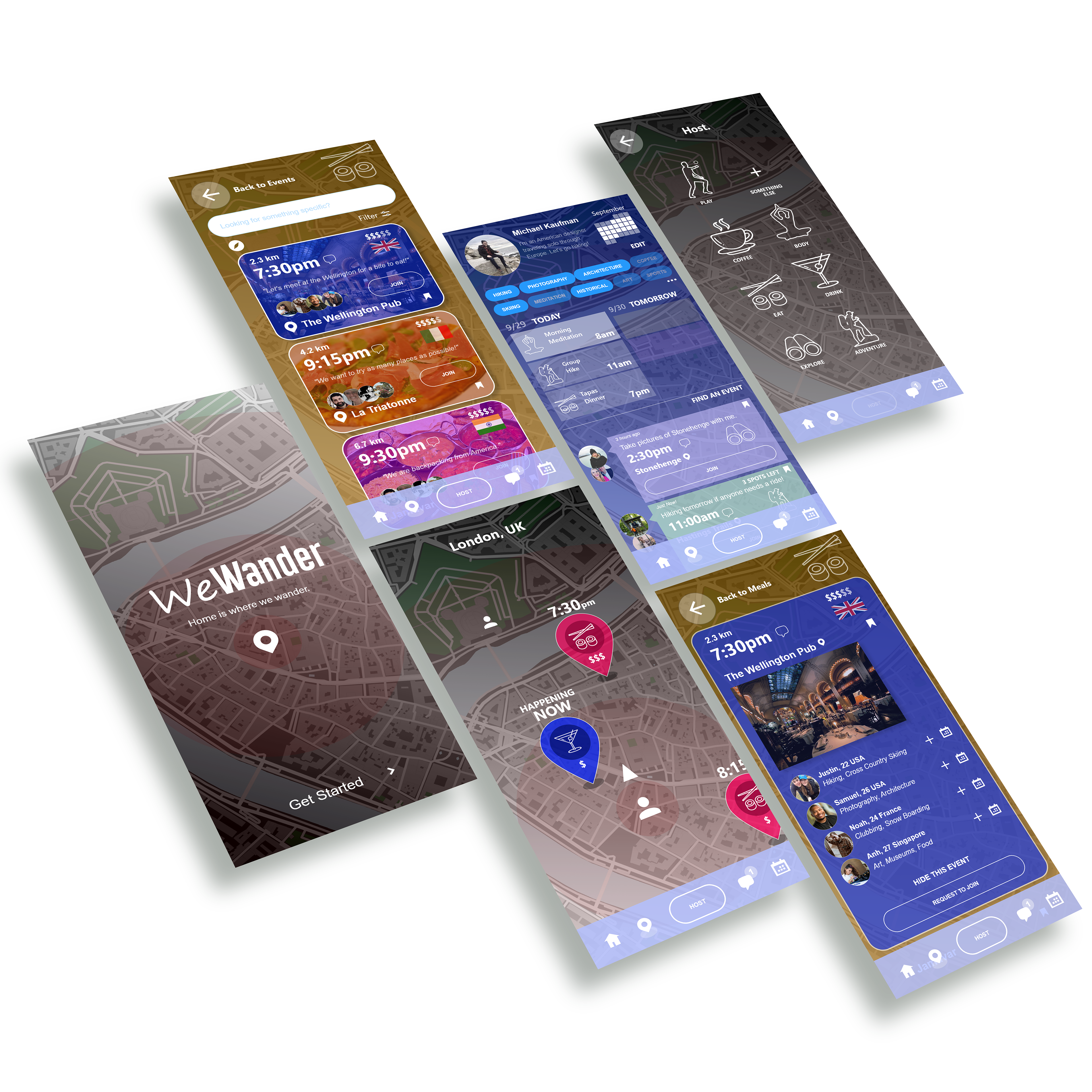 Ideation, brainstorming, research, interviews, UX/UI.

People want to connect. making new friends in a new city can be hard. Business trips can be lonely. Vacations can be boring. Though traveling to a new city or country by yourself can be an exhilarating, life changing experience, almost all travelers have a hard time with the loneliness that comes with immersing yourself in an unfamiliar place. 
Research involved a combination of in-person interviews and online surveys, and sought to find out who the target market is by gaining a deeper level of empathy with users.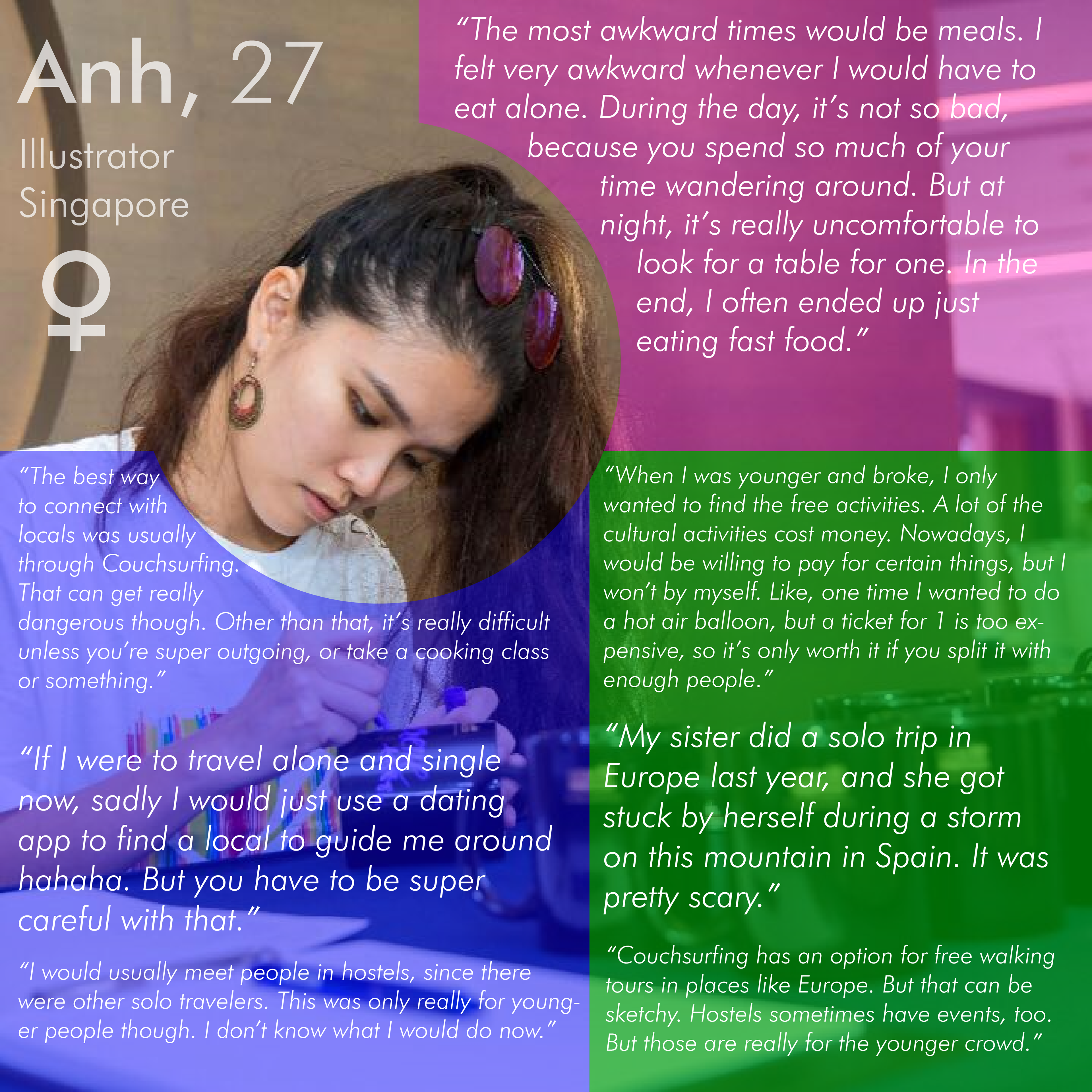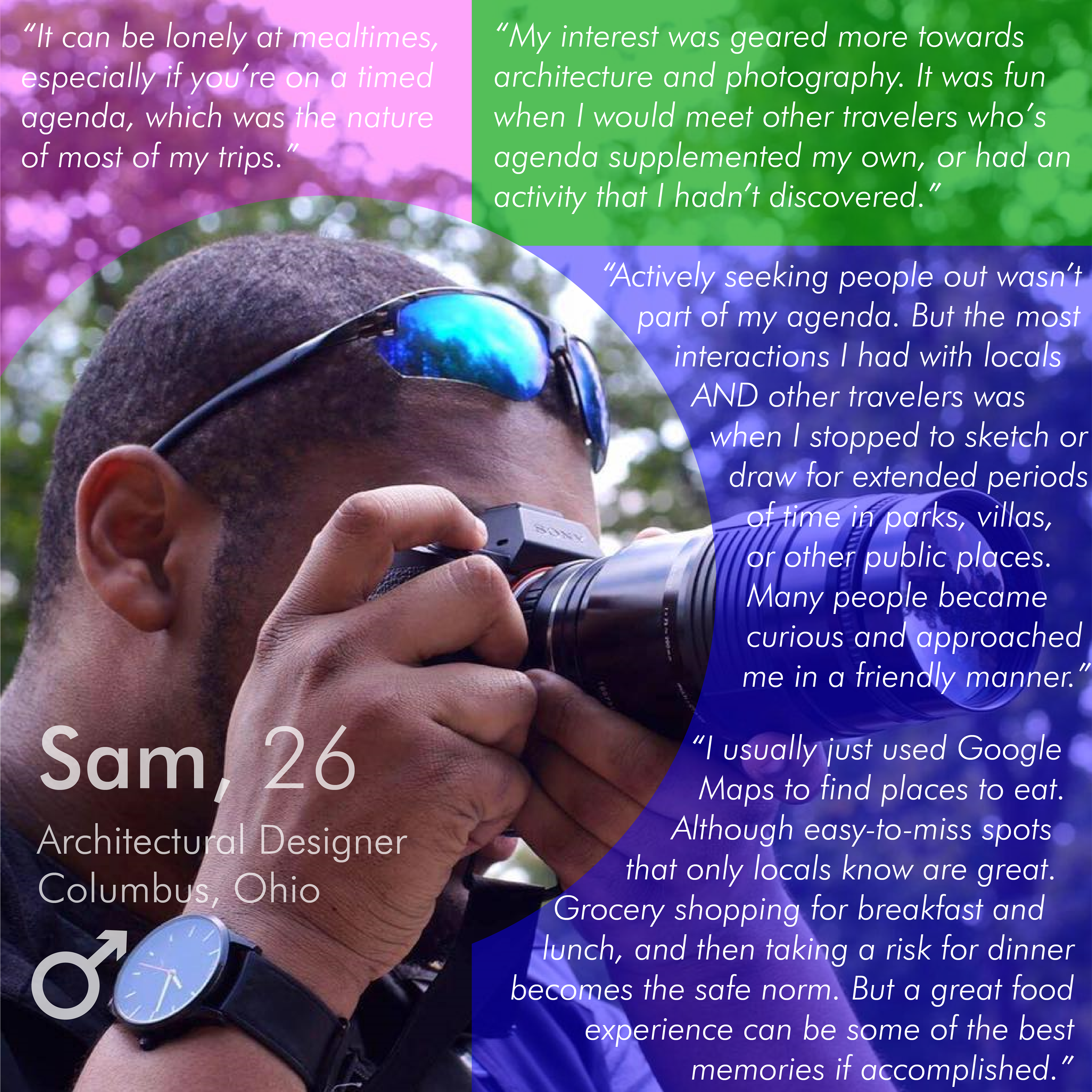 As p
atterns began to emerge, a few things became abundantly clear:
There is a universal desire for a solution to travel related loneliness.
Almost exclusively, the most lonely times are mealtimes, especially dinner.
Additionally, t

he current most utilized methods to mitigate loneliness while traveling a

re s
taying in hostels (only for those in early 20's), dating apps (risky, especially for women) and couch-surfing (can be dangerous)
All age groups and ethnicities, with average / above average socio-economic status.

Travel both for pleasure and business. 
The solution is a platform that allows solo travelers to connect with each other based on what we all have in common - a desire to share experiences and form bonds with one another. The app allows travelers the opportunity to both find, and host, activities that they wanted to do - just not alone. That world famous restaurant you wanted to try? Just make an event posting, and find other solo travelers to have the experience with. The app also addresses the logistical issues of traveling with limited resources. Many travelers may want to go far a particular hike, but lack transportation or gear. Others may want to take a hot air balloon ride, but don't have anyone to split the cost with. With WeWander, they are given the freedom to take full advantage of the geographic location without the burdens - both financial, social, and logistical, that are inherent in solo travel.
WeWander addresses issues of financial viability by fostering partnerships that provide financial incentives, while at the same time, improving the user experience. Deals can be struck with local restaurants, bars, and activities to provide discounts to users who discover them through WeWander. WeWander also can partner with services like Groupon, Uber, Trip-adviser, Meetup, and various travel agencies through in-app cross promotion of services. This doesn't mean simply targeted ads. This means encouraging users to call an Uber when a scheduled activity starts. It means local restaurants can host their own social events and discounted services to travelers.