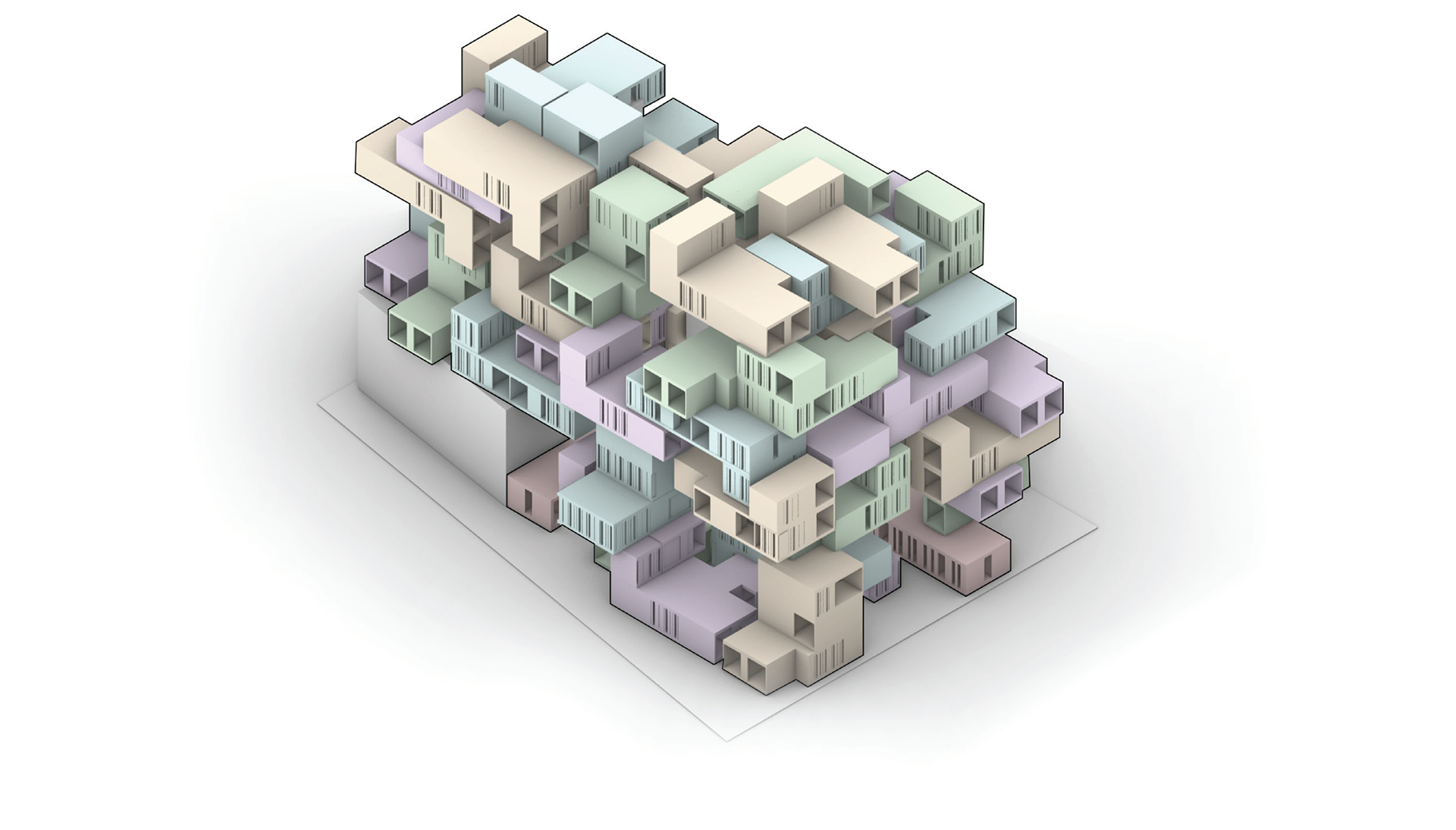 Ann Pendleton-Jullian
Michael Kaufman
Emily Porter
Nisha Muralidhar

"Co-living is a type of intentional community providing shared housing for people with shared intentions. This may simply be coming together for activities such as meals and discussion in the common living areas, yet may extend to shared work-space and collective endeavors such as living more sustainably. Co-living as a modern concept loosely dates back nearly a century in the form of tenements yet may also be considered related to much older forms of communal living such as the longhouse. Its contemporary form has only gained prominence in recent years as a combination of factors have led to interest in this type of living space, including a lack of housing opportunities, the cost of independent accommodation and raising finance to purchase, plus a growing interest in lifestyles not dependent upon long-term contracts."
Intentional community living is a logical progression from the idea that residents who share a certain set of values not traditionally held by mainstream society, may desire to share space and resources in order to successfully live a fulfilling life that fits their unique needs. Co-living is not a new concept. The model has been around for much of human history in various forms; Indian Ashrams, Israeli Kibbutzim, Christian Monasteries. Often, a community is created in a vacuum; an Israeli Kibbutz was traditionally created as a utopian concept based on agriculture. An Indian Ashram is primarily a community based on spirituality. The same can be said for a Christian monastery. In all cases, the residents were (1), removed both physically and cognitively from mainstream society, and (2), living there based on a particular activity or lifestyle. These communities harbor a quality of life not typically found in a traditional, cellular living arrangement. Resources and space are shared to eliminate waste and brew a supportive social structure. Additionally, a sense of community is achieved through the manifestation of psychological concepts of "tribe." Unfortunately, the intentional community system clashes with contemporary living due to a critical flaw; in general, intentional communities consist of a very limited demographic of residents, while contemporary cities consist of all ranges of people at all stages of life. It may seem paradoxal to try and merge the two models for living, as intentional communities were often created in the first place due to their idiosyncrasies; however, the antithesis of the co-living community, is the status quo, which comes with massive flaws that can lead to high amounts of waste, social isolation, and economic disparity, all which could be amended or eliminated with the introduction of a modification of the co-living model.

"Co-living is a type of intentional community providing shared housing for people with shared intentions. This may simply be coming together for activities such as meals and discussion in the common living areas, yet may extend to shared workspace and collective endeavors such as living more sustainably. Co-living as a modern concept loosely dates back nearly a century in the form
of tenements yet may also be considered related to much older forms of communal living such as the longhouse. Its contemporary form has only gained prominence in recent years as a combination of factors have led to interest in this type of living space, including a lack of housing opportunities, the cost of independent accommodation and raising finance to purchase, plus a growing interest in lifestyles not dependent upon long-term contracts."


Co-Living 2.0 addresses the issues of traditional co-living by introducing a key factor; diversity. The model harbors the treatment of the spatiality and organizational tendencies of current co-living systems by treating the network as a logistical problem; by directing the allocation of assets and liabilities possessed by the diverse types of residents, we were able to produce a system that maximizes the benefits of co-living, and creates a highly efficient functional community of inherently different types of people, in terms of their age, lifestyle, financial status, and marital status. We started with seven family types, each with their own needs and strengths. The variety of resident types allows for an array of outputs and inputs, strengths and weaknesses, that all contribute towards harmonious co-living. Where one familial unit may struggle in one area and thrive in another, an adjacent familial unit may inherently come with the inverse flow of resources. These initial investigations revealed seven different resident types: 
Singles, single parents, retired couples, retired singles/widows/widowers, nuclear families, married couples with no kids, and individuals going through financial distress, which we will refer to as insolvents. 

From there, we condensed the groups down to 5 typological unit types. The various unit types were catalogued, and their potential relationships documented.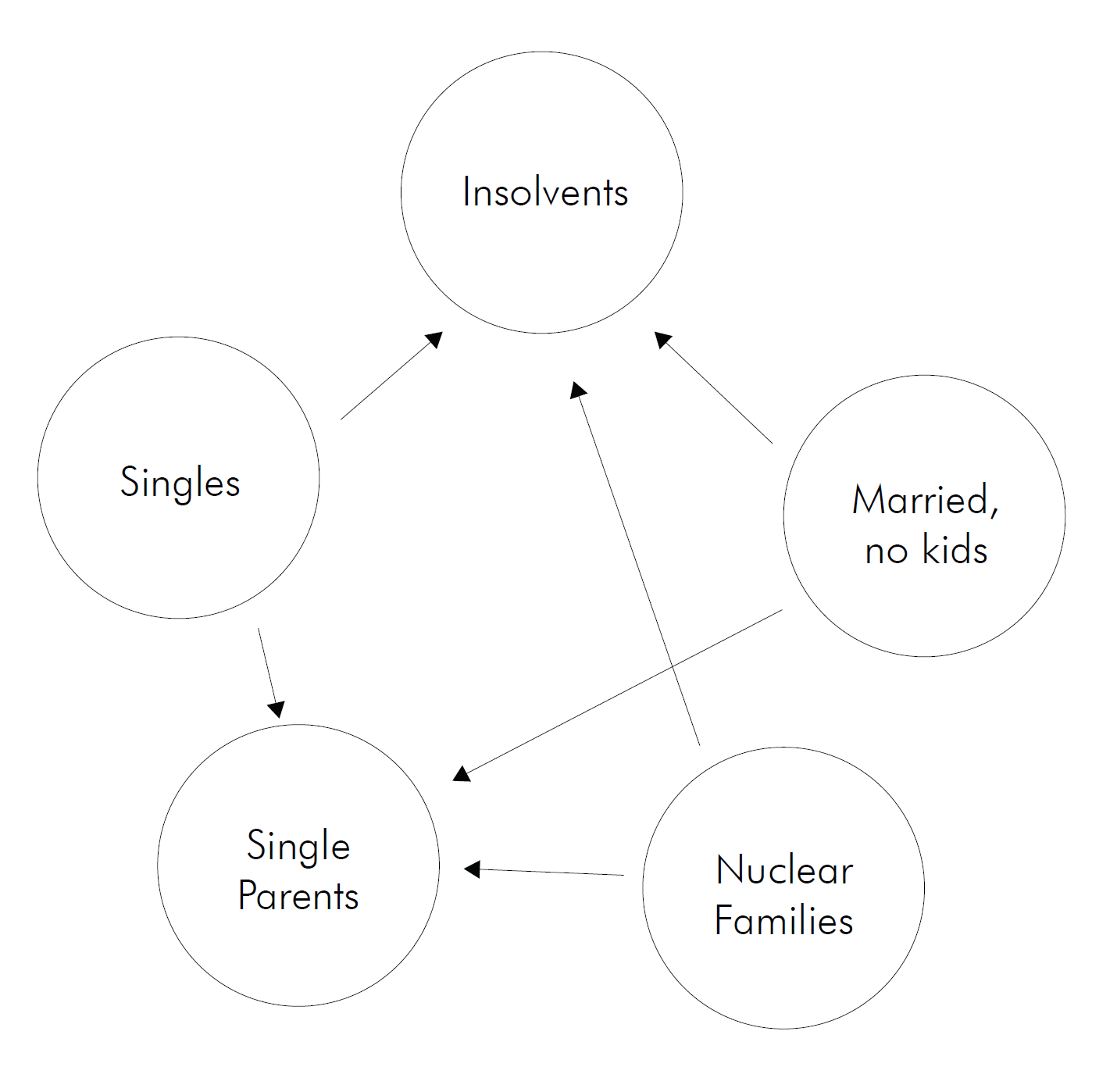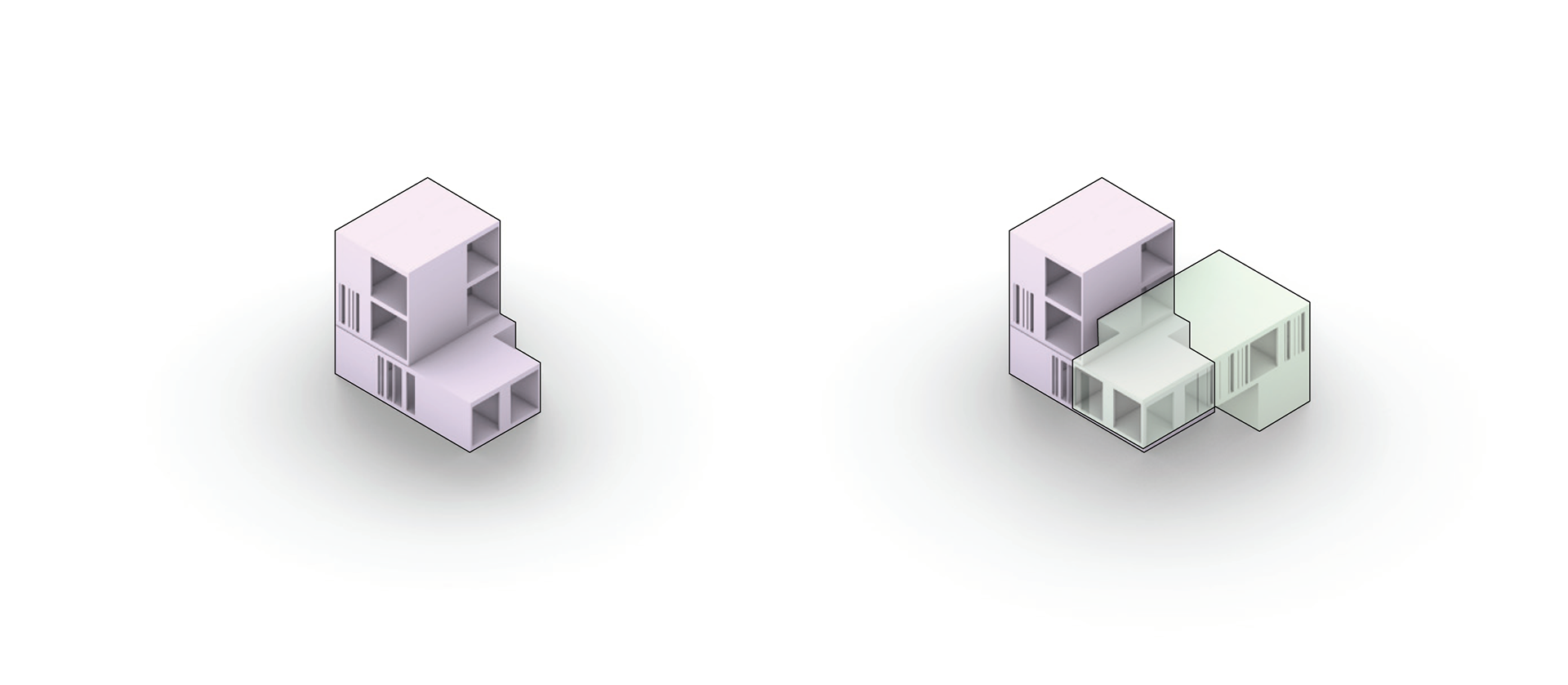 We settled on a modular unit shaped like an L to be the basis for design. The L has
an abundance of strengths on its own, including the ability to create a gradient of
public to private as one ventures through it, along with the ability to step up and
wrap corners in a simple, elegant way, depending on its orientation. Most importantly,
the L creates the ability to stack in endless combinations to organically create
shared public spaces in the gaps and on the roof 's of the units. By stacking L's,
we are able to create controlled, yet unpredictable dynamics of space. This modular
spatial system reinforces the identity of the individual in terms of their relationship
with the building as an object; from a street view, residents will be able to
see the building, and easily be able to identify their personal L unit. Not only does
the conglomerate that forms the complex as a whole reinforce the identity of its
residents in terms of its relationship to other buildings in the community on an
urban scale, but it works on a micro-human scale as well; it works to strengthen
the identity of the individual as a part of the whole by creating a spatial and social
dynamic that is unique to them; no two combinations of units is going to result in
the same experience; this is in contrast to what has become the vernacular in modern
multi-resident housing facilities, where long, monotonous hallways, stacked
one on top of the other have become the norm.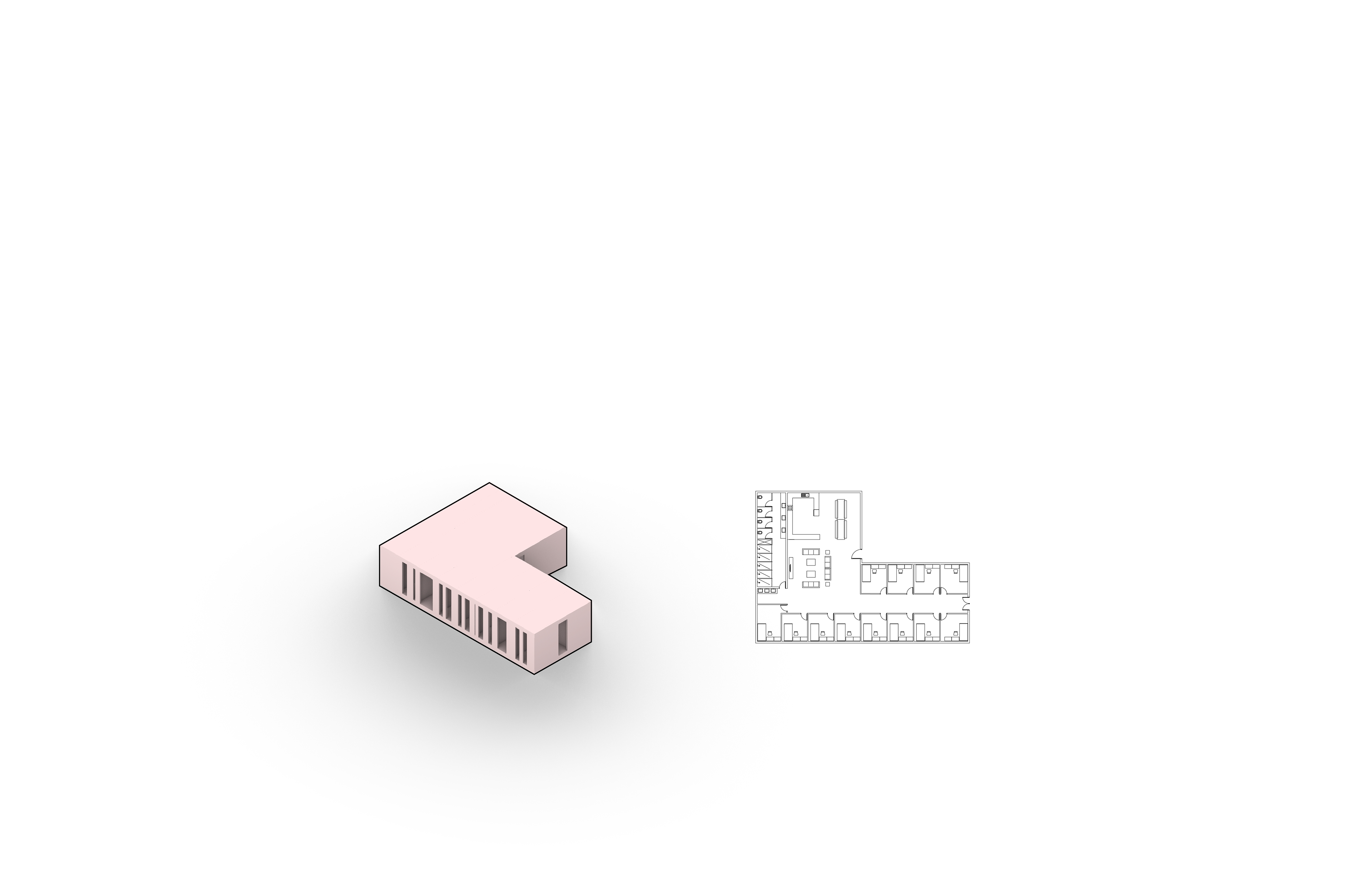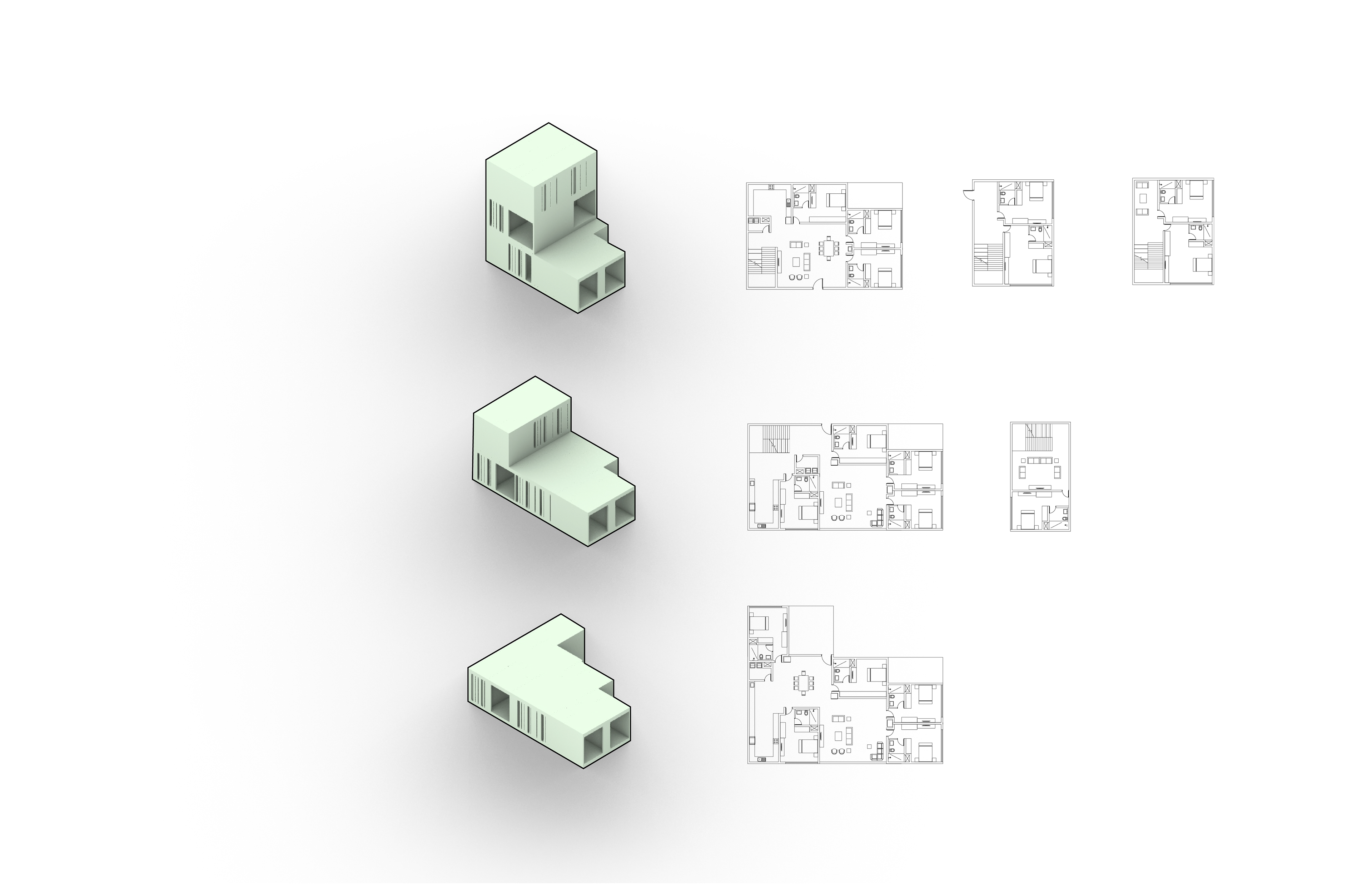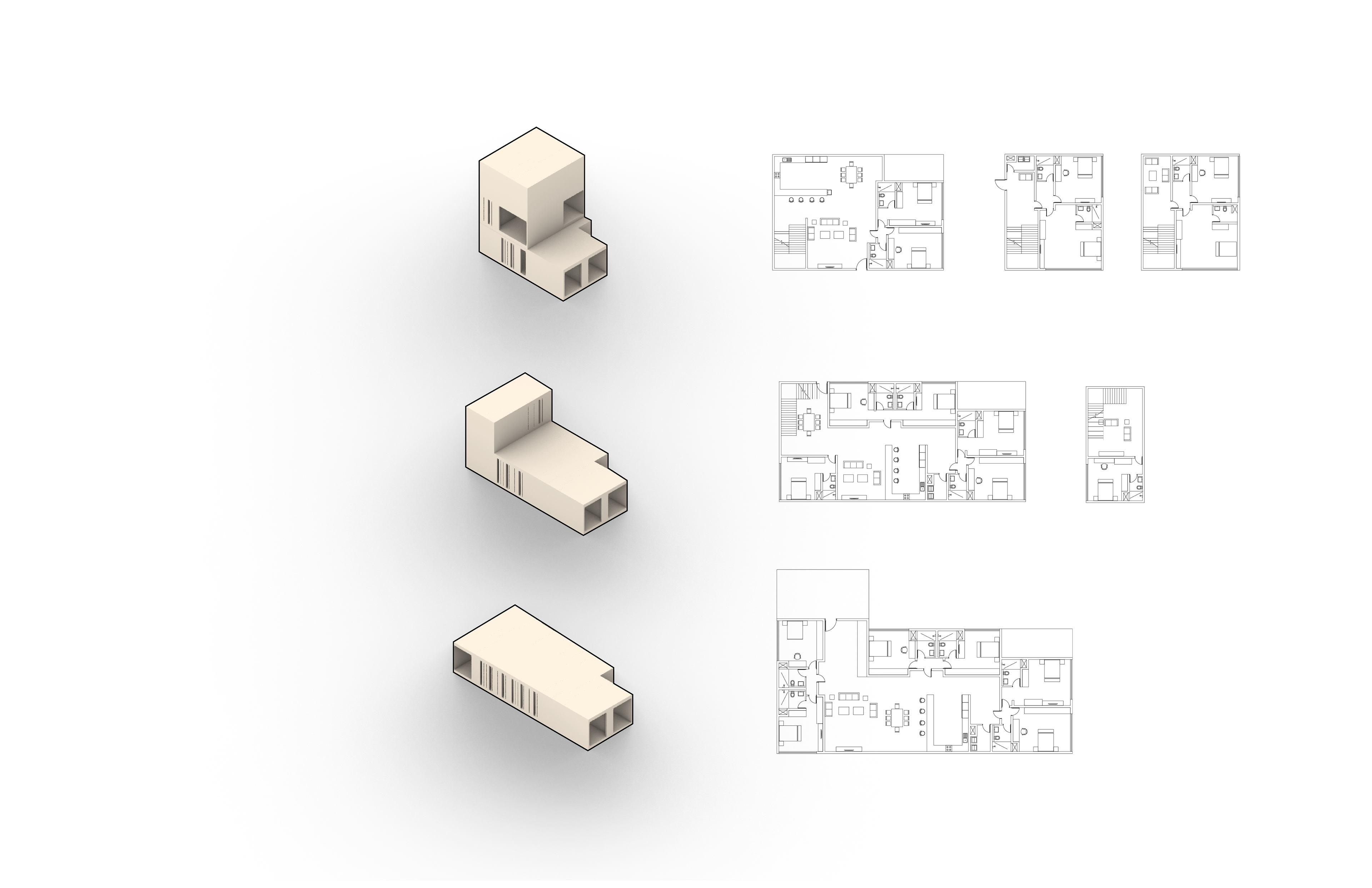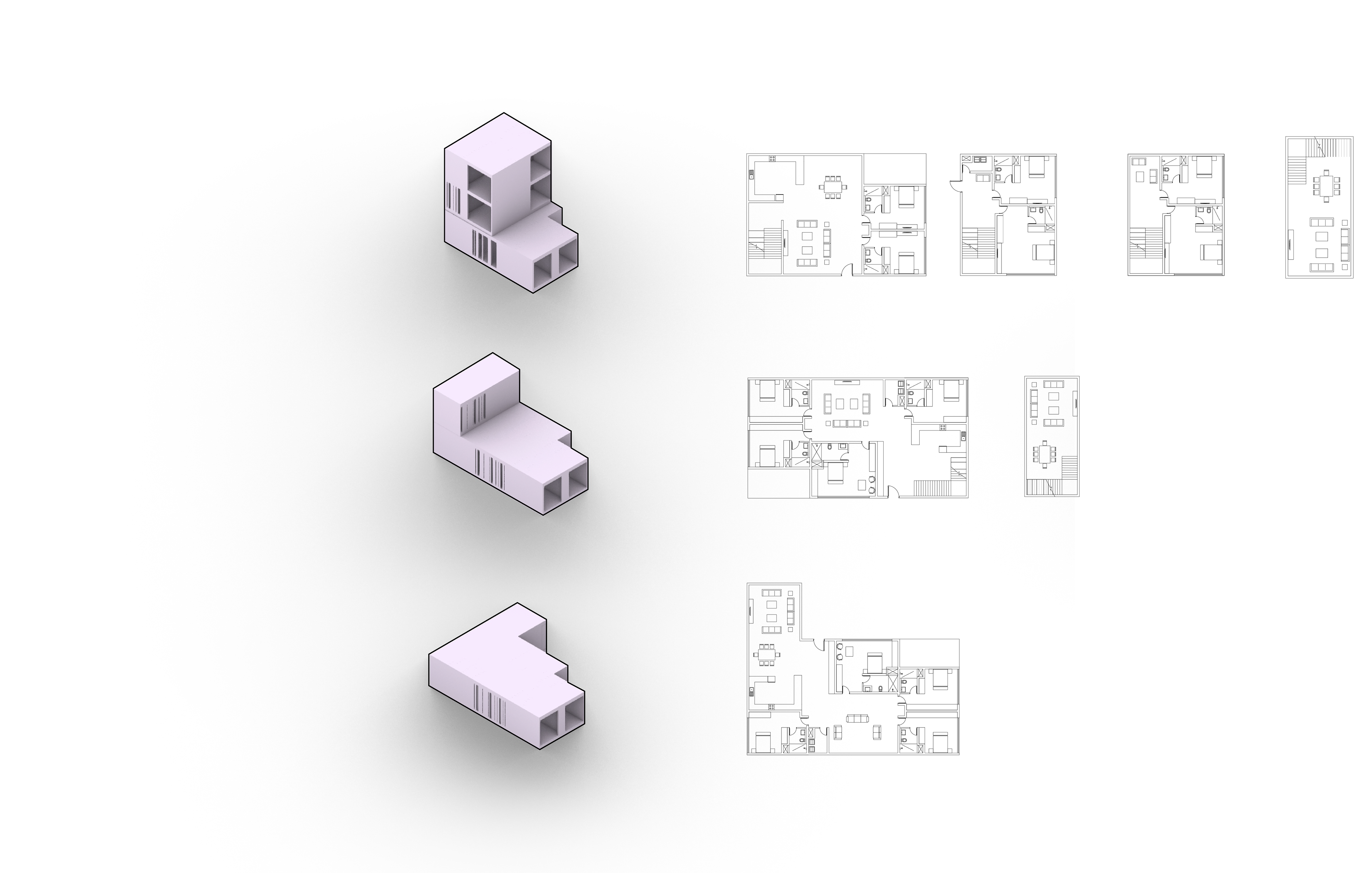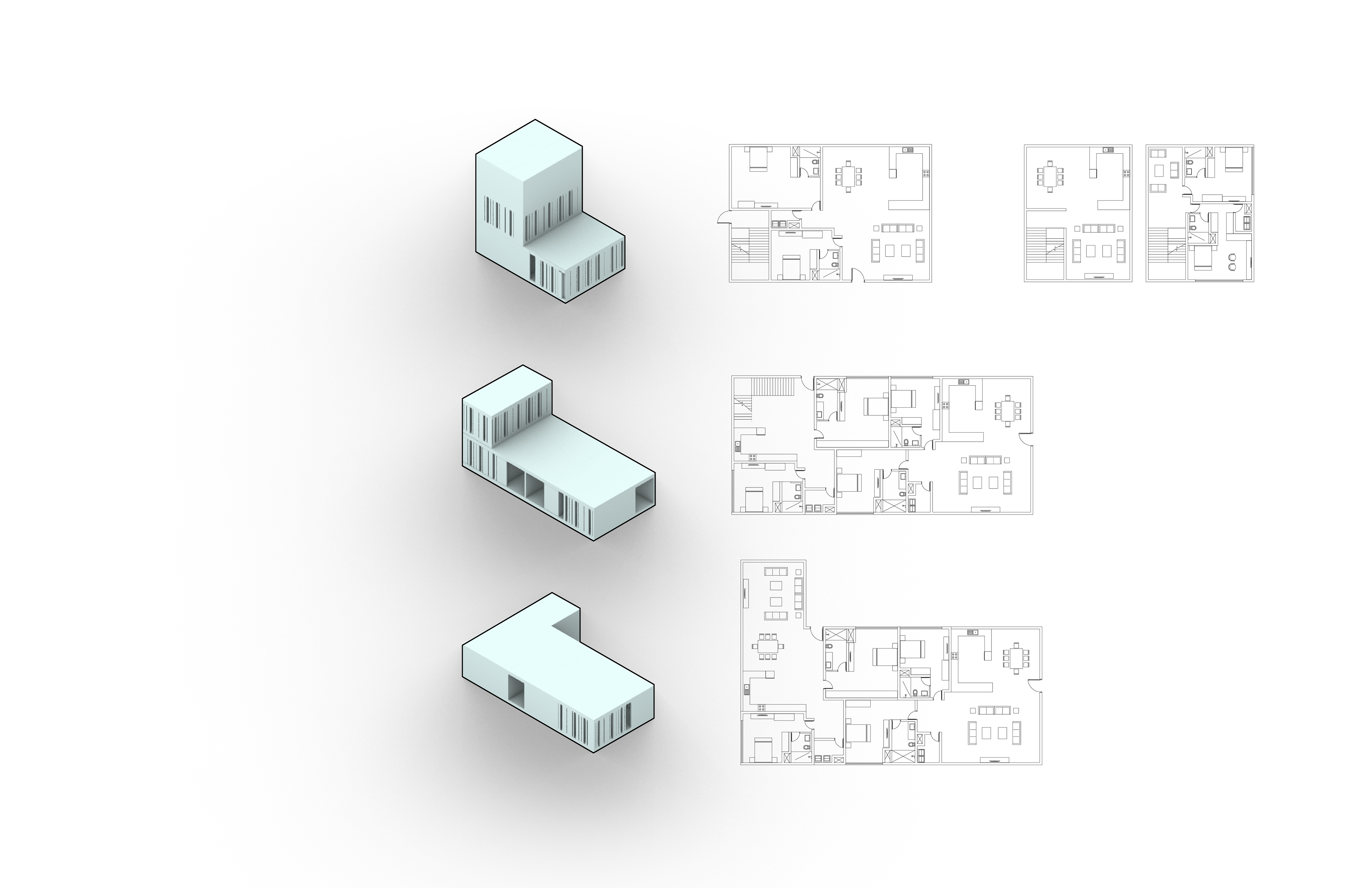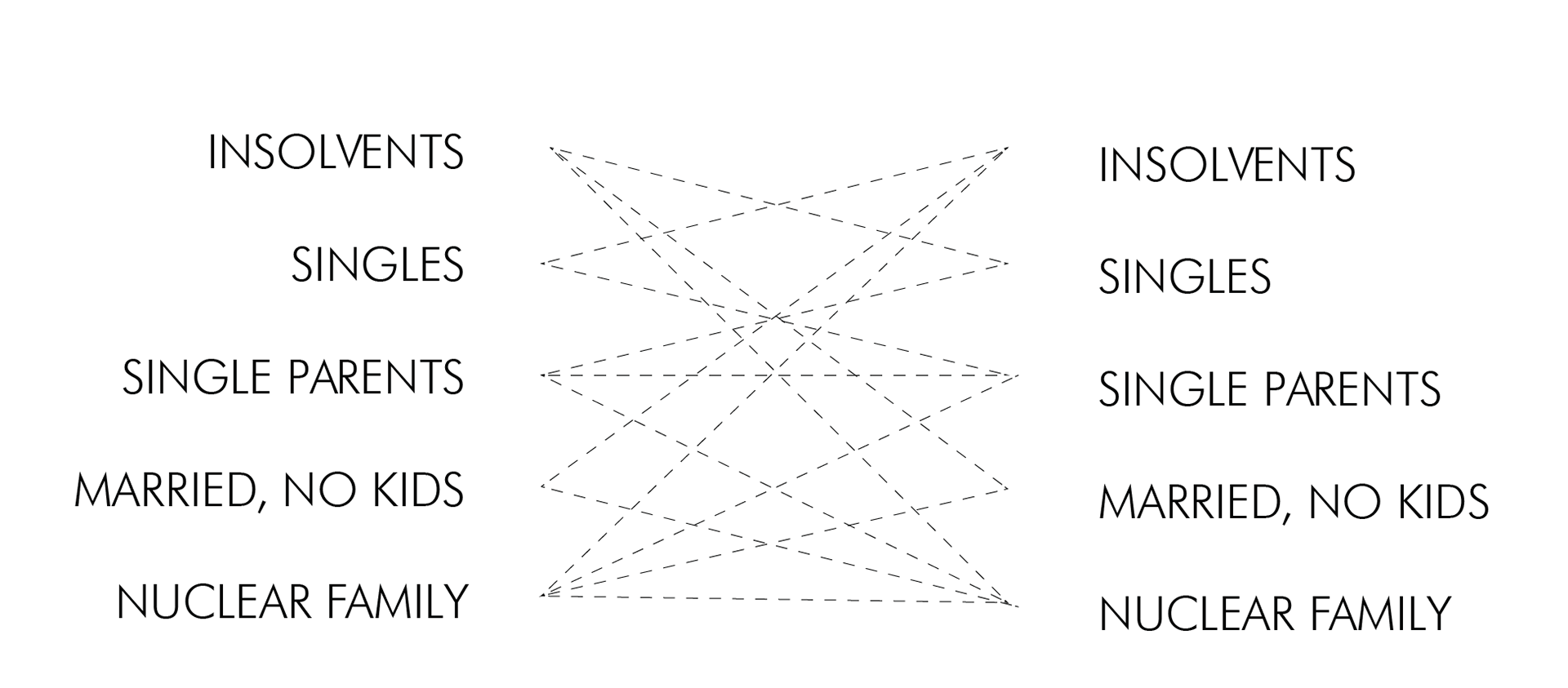 Through analysis of the relationships between unit types in terms of each's assets
and liabilities, we were able to create combinations through adjacencies that results
in opportunities for residents to provide services for one another. A single parent
home may be in need of child care services due to limited time and budget, but by
placing a single parent home adjacent to the homes of a married couple with no
kids and a nuclear family, who may have an abundance of time and resources, they
can help absorb some of the load of child care needs. A unit of insolvent residents,
a nuclear family, and a married couple without kids may be placed adjacent with
each other to create an opportunity for a community garden. This is a way for all
parties to create value for themselves by contributing to a community project, as
well as provide food for themselves and their neighbors. Additionally, these arrangements
can result in profitable businesses that earn money for the complex by
providing services to the surrounding community. Community owned businesses
provide an opportunity to create jobs for residents, as well as minimize rent costs
through internal profit sharing programs.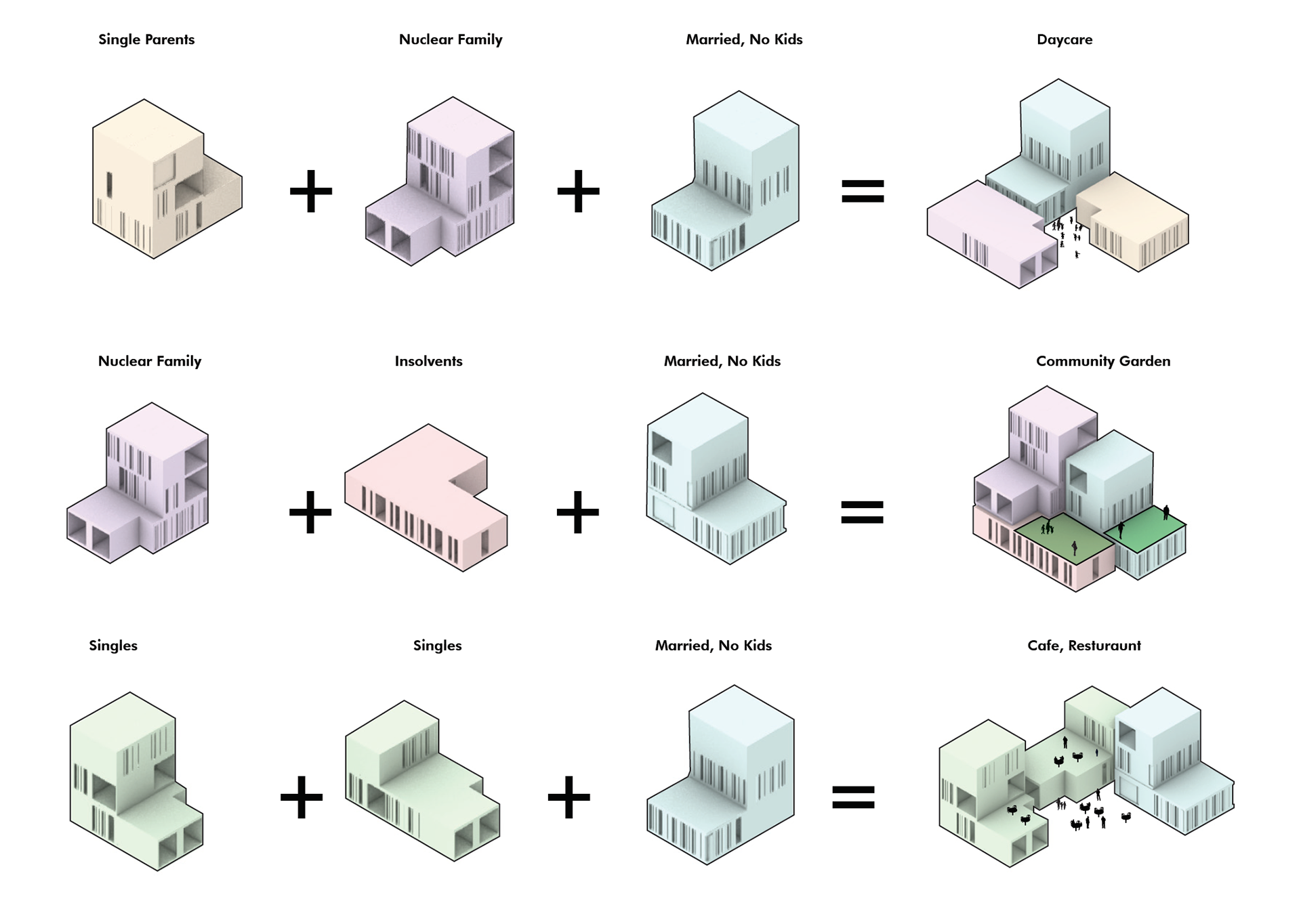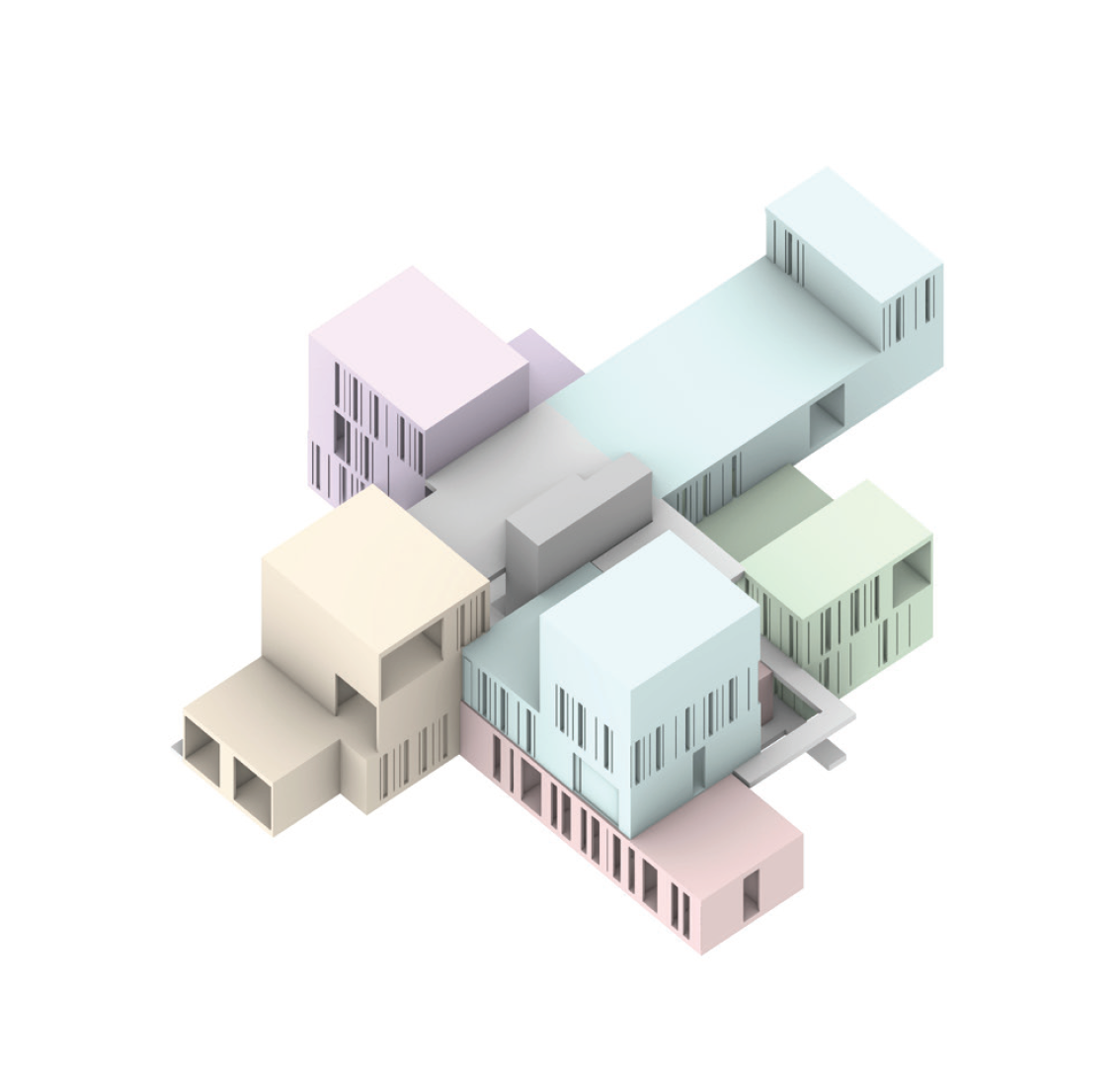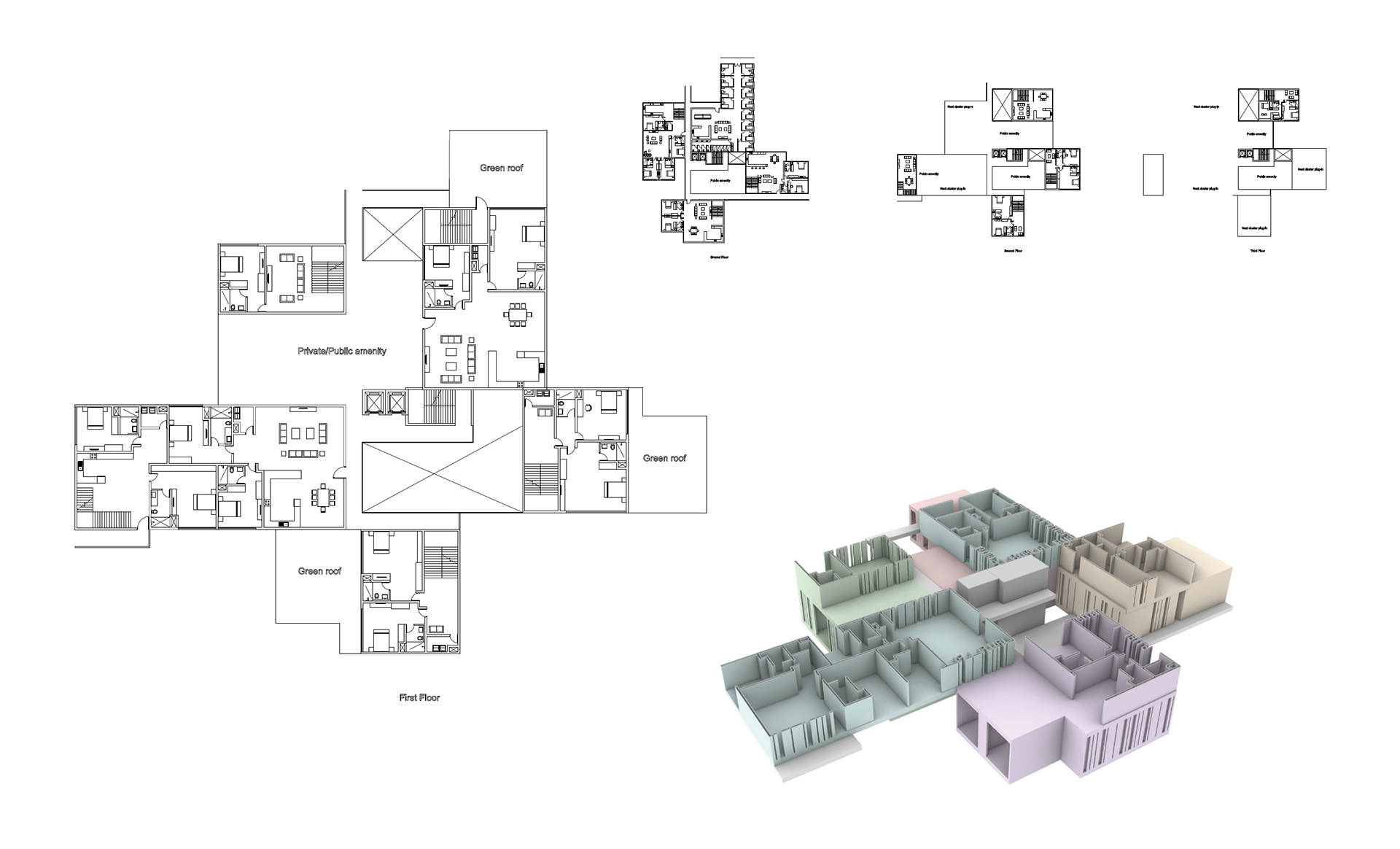 On the current site in Washington DC, sits a church. The church is a community hub, providing gathering spaces and community service, in addition to religious services. The stacking of L's engulf's the church, and is able to expand its footprint by nerly a third. This cuts down on vertical transportation and the need to build up.

In addition to the vertical transportation inside the L units themselves through interior staircases, elevator transport is also possible to make the commute easier. Four are placed throughout the project in an attempt to give access to every unit. Again, nearly very resident's transition between inside and outside is going to be completely unique.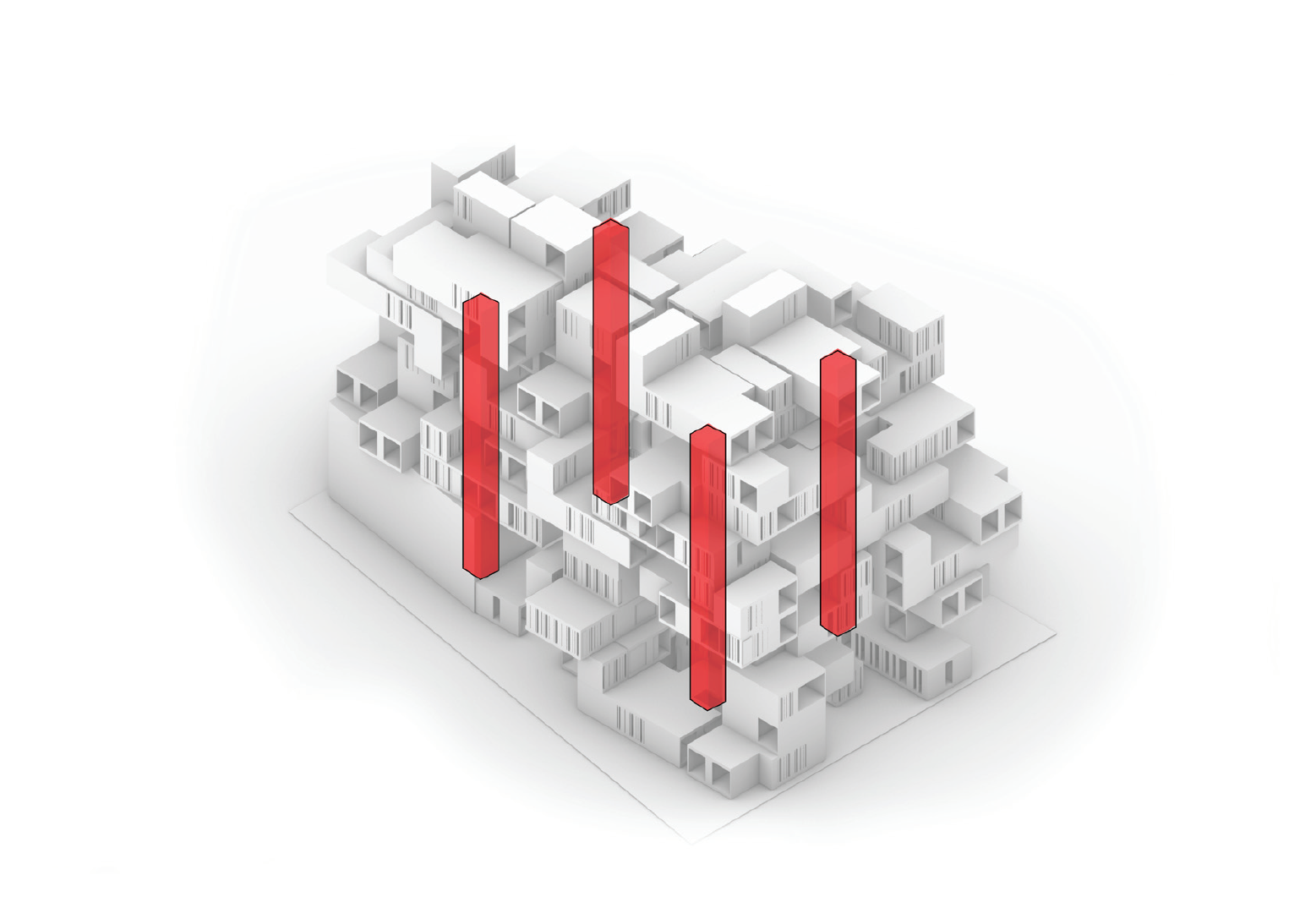 Community Gardens are a key component in the project. They provide opportunities for residents to share a responsibility and improve self-perception of value by creating something to care for and contribute to the community as a whole. It initiates ways for neighbors to interact. They are a food source for residents, as well as a potential product to sell to the community outside the complex. They are especially beneficial to insolvent residents, who may not have the means to provide healthy food for themselves or earn a living. Community gardens will help lift these residents out of poverty, in part due to the food they produce, and in part to the fact that individuals stricken by poverty often are victims to low self-esteem and self-efficacy; by giving them opportunities to work the gardens, they are helping to see themselves in a positive light, and improve their self-image. Community gardens are also a way to insert green spaces and plant life into an otherwise urban life. Studies show that green space improves mood and curbs anxiety.

A building section showcases the dynamic interior spaces created by the system. Shared interior spaces can include artist studio spaces, daycares, WeWork spaces, and general social spaces